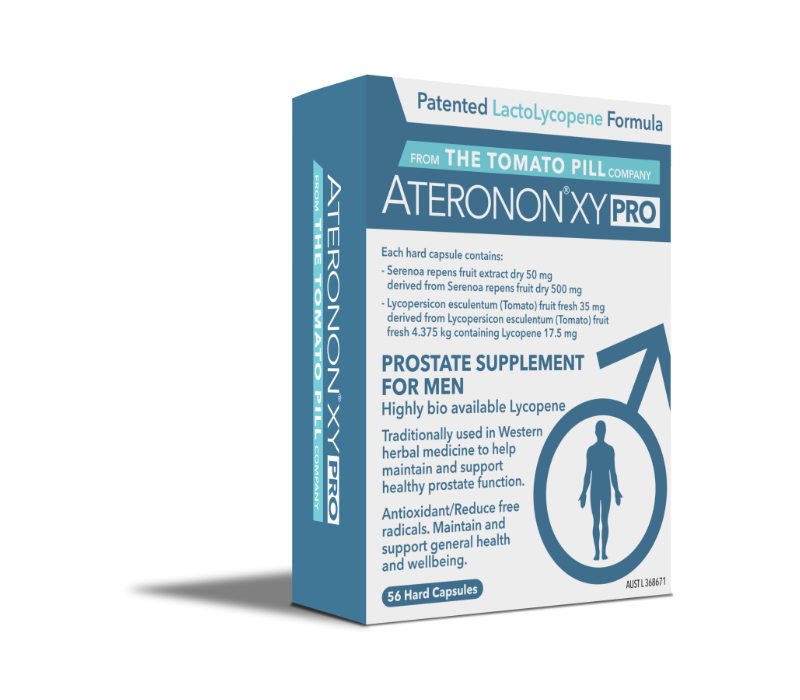 Ateronon XY Pro is ideal for men looking to maintain a healthy lifestyle.
Ateronon XY Pro is a one-a-day natural supplement containing LactoLycopene, a highly bioavailable Lycopene formulation.
The Tomato Pill Company has developed a unique Lycopene and Saw Palmetto formula in Ateronon XY Pro.
Saw Palmetto has been traditionally used in Western herbal medicine to maintain/support prostate health.
Ateronon is not available at pharmacies – its only health food shops.
Containing the highly absorbable LactoLycopene, Ateronon XY Pro has been shown to deliver optimum Lycopene levels in the blood in just two months. A capsule provides the equivalent Lycopene found in 500gms tomatoes. LactoLycopene has been subject to extensive levels of media coverage in the national press.
What makes Ateronon XY Pro unique?
Our easy-to-absorb formula
Because of its molecular structure, Lycopene is extremely hard to absorb. But as Ateronon XY Pro is formulated with a unique, natural, LactoLycopene formula, which combines Lycopene with whey protein, this allows your body to absorb every bit of goodness. This is what is meant by "bioavailable".
Manufactured to pharmaceutical standards
Ateronon XY Pro is manufactured to pharmaceutical grade. Post production, we carry out continual testing every 12 months to ensure the products efficacy. Laboratory testing has shown that there is no deterioration of Lycopene levels in the product for a minimum of four years after manufacture.
Dedicated to clinical research and testing
The extent and breadth of CamNutra's clinical trial work into Lycopene and its benefits is unique and unparalleled.
---
How often should I take Ateronon XY Pro?
Two capsules once a day
It is easy to incorporate Ateronon XY Pro into your lifestyle. Simply take two capsules a day and your body absorbs the Lycopene goodness. If taken daily you will reach the optimum Lycopene levels in the blood in as little as two months. To maintain this level, which is essential to continue Lycopene's health benefits, take it daily as part of your regular health care regime.
---
What else do I need to know?
Does Ateronon XY Pro have any side effects?
If you have tomato, soybean or whey protein intolerance, do seek medical advice first.
---
Always read the label. Use only as directed.
Directions: Take two capsules once per day.
See bottom of carton for best before end date. Store below 30ºC
Each Capsule contains: Serenoa repens (Saw Palmetto) extract , equivalent to dry fruit 500 mg Lycopersicon esculentum (tomato) equivalent to fresh 437.5 g Lycopene 17.5 mg
WARNING – If symptoms persist consult your healthcare practitioner. Contains: Milk and Soya bean products.